Magic Color Eyeshadow Stick-#112-Quail Shimmer
customers are viewing this product
LUXAZA Magic Eyeshadow Stick-112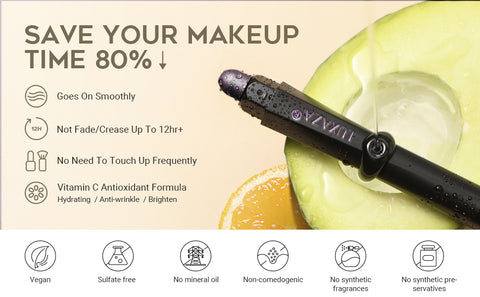 Pretty eyeshadow crayon
I don't wear a lot of makeup so i don't do anything fancy. This eyeshadow stick worked well for my mostly natural look without being too much. The eyeshadow glides on well and is long lasting. I did not find it sticky or tacky but i also don't put on a lot. The brush on the other end is soft and would be good for blending but i don't really have a need for it. I would recommend.
Easy to blend
I'm really in a liquid eyeshadow phase lately. This product goes on so easy and is super easy to blend. The color is definitely long lasting.
Goes on dark and blends softer and easily
I really like this eyeshadow stick! It lasts all day and blends nicely with the included brush. It has some shimmer, but not too much - perfect for a day or evening look. I was worried it would be too dark against my pale skin - but it wasn't - looked great! I personally prefer eyeshadow sticks that don't need a sharpener, and this one meets that requirement. I definitely recommend this.
Difficult to blend
I think this eyeshadow would be pretty smudge proof. However, that same quality made it very difficult to blend. I will have to try it again to see if I can make it work for me.
Glides on like butter
Definitely smooth and the brush on the other end is perfect for smudging it out. The color is exactly as pictured but I have to say it is not the best color of purple. It's almost exactly the color of a bruise and when you smudge it or spread it around, it looks just like a bruise, so I would say be very careful how you style it lol